The Bookbyte Blog
$1 = 10 Meals
Now, more than ever, food banks throughout America need help feeding those who are most impacted by COVID-19. Bookbyte is stepping up and taking action by partnering with Feeding America® to donate $1 for every buyback order received from now until June 31st, 2020. Together, with your help, we can get food to those who need it most.
Sell textbooks to help >
Weird Study Habits to Help You Defeat Finals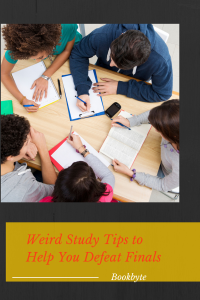 Holidays and finals don't mix. Between shopping for presents for loved ones, working part-time jobs to pay for presents for loved ones, DIYing presents for loved ones since you don't make enough to pay for presents at your crappy part-time job - let's just say it can be difficult to find enough time to study for finals.
If you're anything like me, finding time to study is only half the battle. Fighting procrastination and trying to retain everything from what little study time you have can be an unending struggle that results in late nights and dark under-eye circles. That's where the focus maneuvers come in.
From plugging in your ear buds and listening to classical music to getting out of the house and into a coffee shop or library, most students seem to have some study habit they pull out when they need to get serious. Read on for some weird study habits students swear help get them through finals. Who knows - they might help you out this holiday-finals season.
Get dressed up to study.
One
reddit user
said wearing a collared shirt and dress pants when he sat down to study helped him be productive.
Make jingles out of notes and memorize the song.Not being able to study when it's quiet/turning on all of the TVs, lights, computers, etc. to focus.
Uh, the white noise aspect works here, I guess?
Change the study location every 30 minutes.
"For some reason, every thirty minutes of so, I get up and change my study location and just go sit/lie down somewhere else. You will never find me studying at the same place for more than half an hour."
Interesting. This could go both ways between being an awesome study technique to being the perfect way to get sidetracked.
Write on a whiteboard or large piece of paper taped to the wall.
This could be really helpful for seeing a topic or equation from afar, outside of the tiny lines of your notebook (or the tiny screen of your laptop).
Listen to foreign pop music
. Hmmm.
Here's
one of my favorite Korean pop songs. Just don't get distracted by the music video.
Reenact the same daily routine before a test.
Like wearing the same clothes you studied in to the actual test? It could work, but I don't know how doable it is with a constantly changing schedule.
Use scents to activate your memory.
Kind of like the previous tip, spray an unfamiliar scent while you're studying, then spray it again when you're about to take the test. Scent has been linked to memory, so this might actually work.
Walk before an exam.
Exercising has been proven
to boost memory and brain power.
Reward yourself with a treat
.
Teach what you learn.
Grab a family member or unsuspecting friend and start schooling them on Bacon's Rebellion (or whatever subject you're studying).
Watch TV.
Specifically, watch a documentary on the subject you're studying.
Smack yourself on the head with a book.
We
really
don't recommend doing this, but someone mentioned that it really helps them study.
Maybe these aren't even that weird to you. If you have an even weirder study habit, let us know!