The Bookbyte Blog
STEM Students Can (and Should) Dream Big Too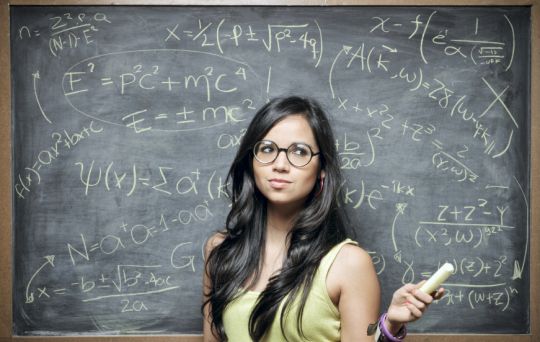 It's a tough time to be a student. Landing a halfway decent job is always a struggle, but recent graduates have to deal with a weak economy and devalued degrees, all while more and more of them need to take out loans and find other methods of paying for their education.
Students, you get hit with a flood of advice at all times. (I realize the irony of saying this while being another of many voices telling you what to do.) Lately, there's been popular refrain among post-graduation advice: get a STEM (science, technology, engineering, and math) major and earn more money. Just look at these headlines: "Face the Facts: STEM degrees earn the highest paying jobs," "STEM jobs pay more, reduce the wage gap between men and women," "STEM Workers are in High Demand." Study after study indicate that STEM jobs pay better than other fields and that investing your time in something like art, English, or God forbid, theater, is not a wise investment of your tuition dollars.

As an English and art major myself, it goes without saying that I'm not too keen on seeing my chosen areas of study get put down so often, but that's not what this article is about.

I think there's a danger in the tone we've set about discussing STEM degrees and jobs. The narrative in so many articles (and in many a Reddit thread) is that STEM students are inherently more valuable, that they do serious work, while we liberal arts majors play around with frivolous things. The tone is dismissive, condescending, and accordingly, really, really easy to ignore. Specifically, by focusing so much on money, we're doing a disservice to the aspects of creativity and inspiration that can exist in the hard sciences.

That last part is the problem. Very few college students choose their area of study according to future earning potential. And telling them over and over again about the money isn't going to change anyone's mind. Why? Because students are going to study what they find interesting, engaging, and exciting on a day-to-day basis. Future potential money is not as much of a motivator.

The more students think of STEM as the practical and stable area of study, the less the field fosters imagination. And that's a real problem with the current American attitude towards science. There's an obsession with practical application of science and a decreased focus on programs that don't have immediately accessible real-world applications, like NASA or particle physics. Politicians and bureaucrats are overly concerned with the short-term return-on-investment of the sciences, and inherently distrustful of science of science's sake. Unfortunately, it's the latter that usually leads to great leaps forward, either through happy accidents or by making little bits of progress that can be carried, football-like, further down the field by later researchers.

Only one in a million of those dreams ever need to come true, but as a society, we aren't doing enough to foster STEM dreams. Dreams are being dominated by the people who want to write the great American novel or become a world-famous actor or musician.

Most people with STEM degrees aren't professional scientists, just as most English majors aren't professional writers. But the ultimate reason for going to college only half lays with the question "What job can I get with this degree?" English majors mostly aren't writers, but studying literature and the written word inform their broader world view, teach them to appreciate the arts, and help define the person they will be and the work they will do in a thousand unknowable ways.

Studying the sciences is no different. If we want more students to study STEM, we only need to show them how much they'll get out of a STEM degree. Not the money or the degree, but curiosity, engagement, and that one in a million chance of finding something, not really practical, but really cool.