The Bookbyte Blog
Should All Tests Be Open Book?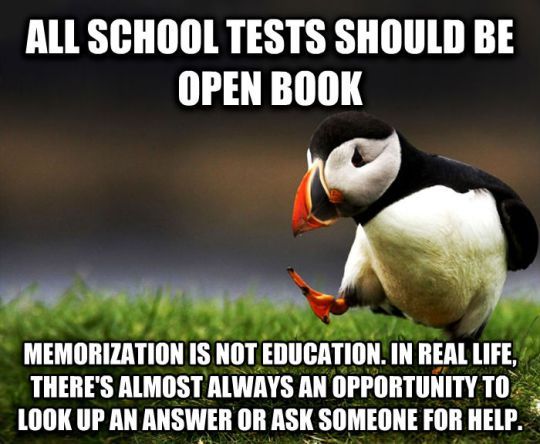 A thread on Reddit with the above image kicked off an interesting discussion by teachers and students on the value of memorization in education. As often happens with stuff we find on Reddit, we carried the discussion back into the office, and not all of us were on the same page. Here's what we thought.
Gavin

I'm a big promoter of practical testing. I don't think 'multiple guess' tests really show anyone what you know or how well you can apply that knowledge, but mostly if you are a good test taker or not. Out in the real world, you are rewarded for your ability to problem solve and find the answers, rather than knowing an answer from memory. Furthermore, I am also a fan of portfolios vs. test scores to showcase one's knowledge and achievements. I would say I strongly agree with the puffin.
Jesse

While having an open book test could encourage resourcefulness, you still have to know, roughly, wherein your notes or text the answer can be found. To me, it sounds like you're taking the risk of spending more time on the back end, during the physical test, than on the front end by actually knowing and understanding the material. If I'm having open heart surgery do I want my surgeon to have an anatomy chart open on the table while he's cutting me open? Or how much time does it waste when your cashier has to look up each and every code of every item you purchase? I'll take my chances on a med student that's been forced to memorize everything or general edu student that's taken the time and effort to memorize their class materials over someone who hasn't.
Justin

I'm not a fan of standardized testing as I don't believe it accurately reflects one's intelligence. People in the real world are allowed to use their resources, pool their knowledge with others, collaborate and problem-solve to come to a conclusion. I think the meme is accurate in that memorization is not education; memorization is just one of many tools that you have. One's score or overall intelligence shouldn't be solely tied to that.
Holly

Textbooks can be a convoluted mess. I always thought that I would do a better job on a test if it was open book, but I spent so much time searching for answers that I would skirt the line of completing a test on time. Cramming for a test only helped me to take tests faster. Memorizing enough information to answer correctly or with an educated guess always proved successful for me, so I didn't have a problem with it. I disagree with the advice puffin. Yes, it's true that in real life you have an opportunity to ask someone for help. But it's also important to have a base knowledge in place.
Chris

I don't think this issue is as much about the merits of memorization as it is about whether or not a test is well-designed. The point of a test is to apply knowledge, sure, but writing a persuasive essay, making an educated guess, and solving for X are all different valid ways to apply knowledge. That variety is important since each type of test exercises a different skill set. I wouldn't ever argue that all tests should be open book, but I think they get too needlessly stressful when they're designed in a way that tries both your ability to recall and your ability to apply, like an art history final where you need to remember exact spelling for Islamic art and artists. (This one happened to me, extra ridiculousness points because those names and terms were transliterated from Arabic anyway.)

What do you think?