The Bookbyte Blog
Productivity Tips for Studying from Home During the Coronavirus Pandemic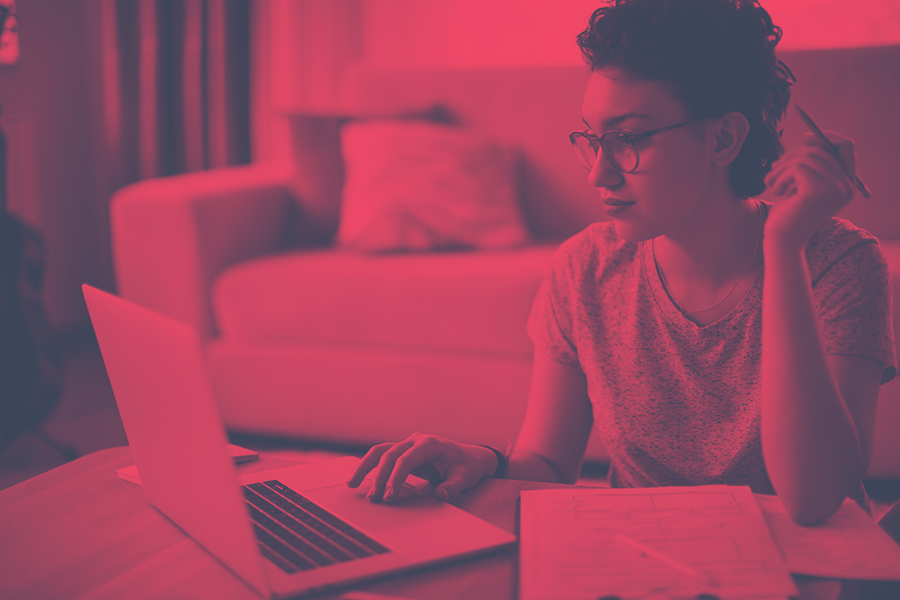 Bet you never thought you'd spend spring break in pajamas, with your parents, rationing out squares of 1-ply toilet paper? Yeah, 2020 is hitting hard (and honestly, it could still be worse) but we're strong and we're keeping it moving. With the school closures, mass layoffs, grocery hoarding, shelter in place orders, medical supply shortages, the impacted health of loved ones, and really, our overall unreadiness for this pandemic, there's not much we can control. What is left in our control is how we handle all of this.
With colleges moving to online-only classes, you'll need to adapt quickly or fall behind. For many, transitioning away from the structure afforded by your College or University will be a harsh wake up call. But, don't fret, we have some study from home (SFH) tips you can follow to help keep you on track for success.
Get dressed
Changing out of your pajamas may seem pointless since you're staying home, but it's not. In fact, opting to ditch the PJs and go with something you'd wear to class can really help put you in the right mindset and boost your confidence. Plus, by doing this, you're establishing boundaries between working and relaxing.
As Fast Company points out, what we wear does influence our mood and behavior as clothes carry with them a feeling and they project an attitude. Think Hawaiian shirt Fridays. Yes, a fun idea for many companies but there's a reason they do it at the end of the week vs the beginning. Clothes do influence our productivity so do yourself a favor and establish a study dress code.
Create a dedicated study area
Setting up an area solely for studying is another way to establish boundaries between working and relaxing. A designated study zone limits distraction and helps put you in a state of focus and keeps you there. The couch and coffee table combo should be out of the question as it's just too risky—especially so if there's a TV in the background whispering sweet nothings. If you have a desk at home, great! If not, try setting up at your kitchen table—just make sure your family or roommate(s) respect your space.
It's also important for your mental health to keep your studies contained all in one place. When you're in your study area, you're in study mode and when you leave, you're in your leisure mode. If you have textbooks and notepads scattered all around your living area, your mind is going to keep coming back to your studies. Maybe it doesn't sound like such a bad thing to some of you—you know, "just gets me that much more prepared, right?" Maybe. But if you're thinking about your studies for 10-16 hours a day, you're going to get burnt out fast.
Set timers and take guilt-free breaks
Using a timer makes studying a lot less daunting and helps you commit 100% of your focus to 30-60-minute study sessions. Consider going with an optimal time of 45 minutes as it can occasionally take up to 15 minutes just to find your groove, leaving you with a solid half-hour of prime study time. During your timed session, make sure your phone is put away (this doesn't mean just going hands-free), the TV is turned off and there are no other distractions. Then, after you've studied hard the entire time, you can now enjoy a 10-15-minute leisure break that is 100% guilt-free!
Listen to the right kind of music
This one is mostly self-explanatory as we've all probably learned this lesson already but listening to music with vocals/lyrics can be a big distraction. I mean, it's hard to study some boring textbook when your favorite artist's lyrics are really hitting home. Huffington Post highlighted a handful of studies proving the type of music we listen to does affect our cognitive ability for better or worse. Specifically, the studies revealed that popular music with lyrics had a negative impact on one's reading comprehension and information processing.
The types of music shown to not detract from our focus, according to Psychology Today, are relaxing, repetitive, low-information-load instrumentals. If you use and abuse Spotify, check out their Focus music curation of playlists that has a great variety of music designed to stay out of your way while you study or work. Lastly, opt for headphones over speakers so you can further disconnect from your distraction-filled home.
Start writing to-do lists
Writing a to-do list first thing every day is a great way to break down your studies into more manageable chunks. Of course, it also helps you remember the important stuff. Without lists, we're forced to try and remember everything we need to get done and, at the same time, mentally prioritize it. Go ahead and make things easy on yourself and write it all down. Additionally, think of your to-do list as being a living list in that it stays with you throughout your day, ever ready to be added to or modified. If there are still one or more intimidatingly big items on your list, try breaking them down into smaller chunks by creating sub-list items for them.
Once you have your list, and you've prioritized each task, you've basically mapped out your day and created a good structure. The fun, rewarding part is checking off items when you're done! Sounds hyped up but you really get a strong feeling of accomplishment and relief from it. Don't believe? [IDEA: The last part: rewarding and accomplishment feelings]
Thoughts: I use lists every day. If I don't use them, I'm sure to forget something big or small. For me, it helps to also prioritize my to-dos and I'll even create sub-lists for bigger to-dos, so those projects become more manageable and not so intimidating. With many tasks and no order, you can fall into a state of decision paralysis and waste a great deal of time just figuring out what to do.
Learn actively and take notes
The goal is here is to try and expand beyond just processing information as you normally would when reading and try to truly engage with the content. By taking good notes during readings and online lectures and videos, pausing often to review paragraphs and sections, and answering any questions as they come up with supplemental research, you gain a much more thorough understanding of the subject than you would otherwise. Lastly, they say the best way to see how well you've learned something is by demonstrating or teaching to another. If you can't do this or have a lot of trouble, then you probably need to spend some more time learning the subject.
That's it!
Hopefully, you find these SFH tips helpful and can take and apply some to your situation. Be sure to share if you know anyone who might need a little more structure. We wish you the best and hope you and yours stay safe and healthy during this challenging time.