The Bookbyte Blog
How to Get the Most Money for Your Used Textbooks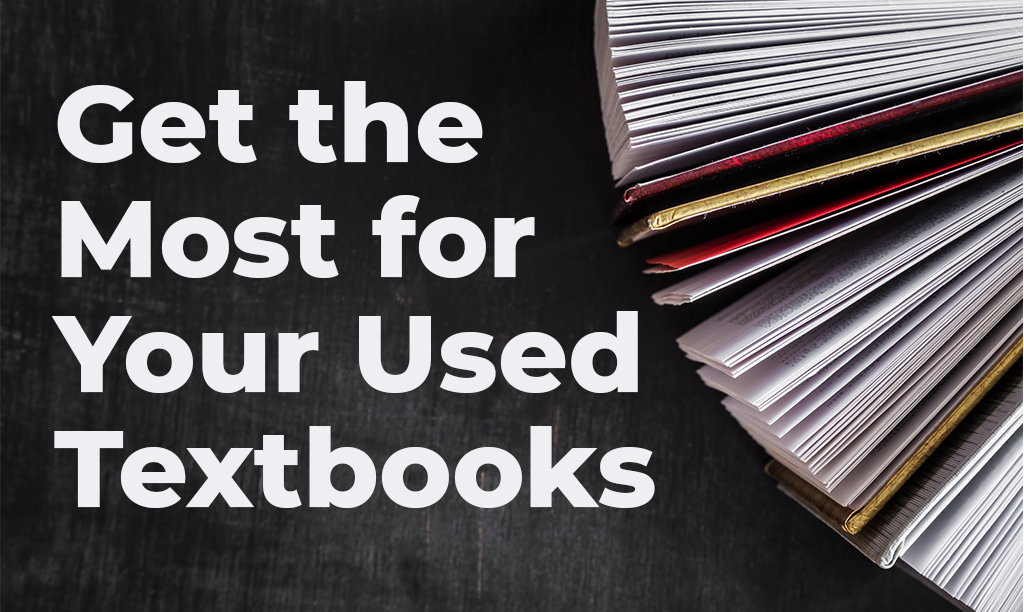 You may feel like you've been burned in the past by an online textbook reseller company possibly rejecting your book(s) or significantly reducing a buyback price quote. And most likely, you feel this had to be the company's wrongdoing. In truth, 90% of the time it has to do with bad information provided on the buyback quote and improper shipping of the textbooks. But don't fret, we're here to help you get the right amount for your used textbooks 100% of the time. Below, we'll go over the best practices for getting an accurate buyback quote and shipping your books correctly.


Before ever completing the buyback checkout process, check and make sure your book is in resalable condition


Resalable condition: books with minor to no signs of wear and tear. This can include some staining, discoloration, writing, highlighting, markings, tears, and other general damage from use. All pages must be included and all text legible. Bookbyte pays the same amount for used and unused books in Like New–Acceptable condition.


Non-resalable condition: books that have excessive writing, highlighting, or other markings on over 75% of the pages; cover damage greater than a 2x2" section; numerous torn pages; excessive odor; mold; obscured text or illegible text; or severe staining covering more than a 1/3 of the page and spanning more than a 1/3 of the book; missing pages or stuck-together pages; or books that are deemed inauthentic or a replica.


If Bookbyte receives a book in non-resalable condition, it will be recycled and no payment will be sent.


Details matter. Your buyback quote needs to list the exact book(s) you wish to sell.


Make sure the ISBN(s) on your buyback quote match your books' ISBN(s). The book's ISBN can be found above the barcode on the back of the book or on the title page—inside the front of the textbook.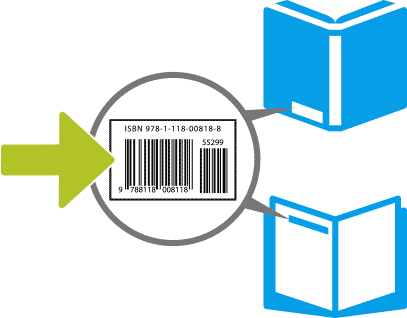 Beware: some textbooks will have taped-over ISBNs which usually indicates the book is not the regular student edition (see below). If this is the case, check the book's title page for the original ISBN and then verify that we are accepting that edition. Also, know that we do not return books sent to us in error, and we no longer accept annotated or instructor edition textbooks.


If you're selling a textbook that came with supplements, the supplements need to be included and unused.


To summarize for the TL;DR crowd: Textbooks that come with access codes or workbooks need to be brand new, sealed, or unused if sold to Bookbyte. If you send a textbook with an access code that has been revealed or used or is missing, you will be paid less than the quoted amount or not at all—depending on the textbook's freestanding value. (The same goes for workbooks that have been used or written on.)


The full story: Textbooks that include supplements are considered packaged units which usually have an ISBN on the sealed shrink wrap that denotes it is a packaged unit. These supplements can be access codes, CD's, DVDs, workbooks, flash cards maps, etc. Any supplement that requires some form of redemption—in order to be used—can be classified as a one-time-use product, which has no resell value after redeeming. (Workbooks requiring handwritten input are also considered a one-time-use product.) DVDs, CD's, flash cards, and maps usually can be reused but now, with the shift to digital content, access codes are becoming the most widely-used supplement—making it almost impossible to resell the majority of packaged units.


Workaround: if you have a packaged unit and have already redeemed its access code, check to see if the textbook has its own unique ISBN. If it does, you can use the ISBN to verify we are accepting the book as a stand-alone product (there's a slim chance). Once you've entered the ISBN, our website will recognize if it is a packaged unit ISBN or a stand-alone ISBN, and it will specify if you need to include unused supplements or not.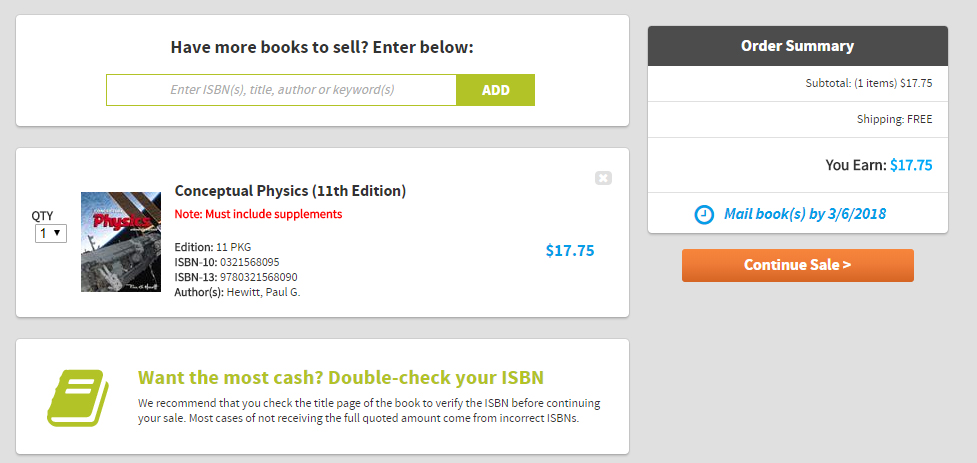 There are specific shipping instructions that if not followed, can result in your textbook never being properly processed or being damaged in transit. Here are some guidelines for ensuring your book is packaged and shipped properly:


Only use the prepaid shipping label we provide. As a courtesy, Bookbyte offers free shipping on buybacks by providing a prepaid shipping label that is required to be used on your package.


Do not re-use our shipping label on multiple packages. If you are selling more than six textbooks in one order and need additional labels, please contact our customer service via email and we'll make sure you have what you need.


If the pre-paid shipping label we supplied to you is blank (meaning it doesn't have a tracking number or it is missing an address field), contact us via email or submit a ticket through our Portal and we'll get back to you with the correct label. Here's an example of both a blank label and correct label, for your reference.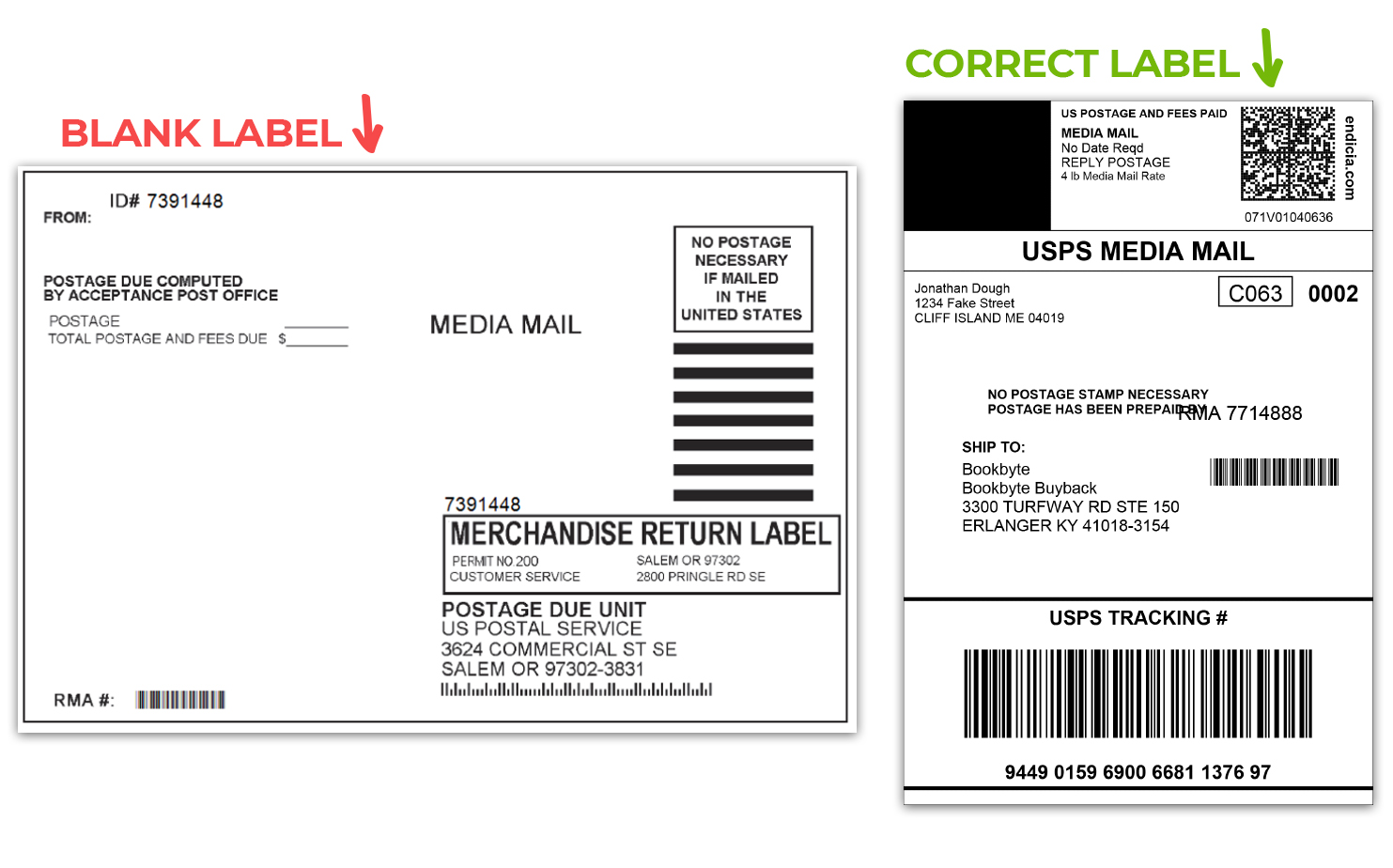 To ensure your book is not damaged in transit, please pack your books tightly in a heavy-duty shipping box. (Please, for the love of everything good, do not package your book in a cereal box or manila envelope.) If there is empty space between your book(s) and the box, please use bubble-wrap or packing paper to keep your book(s) from shifting during transit.


If you are sending loose-leaf or spiralbound book(s), please secure the pages. You can achieve this by applying rubber bands, vertically and horizontally, around the book and its pages. Then follow the rest of the packing directions for shipping regular books.


Ship your package from home or the nearest post office within 5 days of creating your buyback quote. Sending your book(s) in this timeframe ensures we receive and process the book(s) before the quote expires and you end up being paid out a different price.


Do not use Priority Mail/flat rate boxes to mail your books. Using these types of boxes will incur additional shipping charges that will be deducted from your cash quote.


Include a printout of your order information as a packing insert to increase the chances of retrieval if a package is damaged in transit.


We recommend you purchase optional insurance when shipping your buyback to us via US Postal Service Media Mail (and remember to save your receipt). If your package is received as damaged and books are missing, we will not be able to pay for the missing book(s). Bookbyte is not responsible for any loss or damage incurred during transit.


So that's basically it. Follow these steps and you can guarantee your book(s) are accepted and you are paid the full quoted amount. Share this with any friends who use Bookbyte and make sure they're set up for success!