The Bookbyte Blog
How Shared Stressing Out Helps You Relax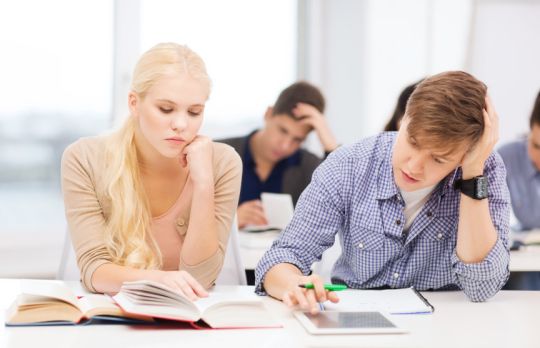 Misery loves company. A new study out of USC argues that stress is reduced when the experience is shared. In other words, complaining about your ridiculous deadlines, unreasonable professors, and brutal workloads with your classmates is actually a valid coping mechanism.


For the study, researchers measured cortisol (a hormone released in stressful situations) levels among participants completing a public speaking task. Participants who were allowed to discuss the task among one another in advance were notably less stressed than those in isolation.

The key was the emotional state of the person who spoke with the participant. When the emotional profiles were the same -- because they were in a similar situation -- stress levels decreased. That suggests there's something more socially advanced going on than simple catharsis. Stress levels aren't just dropping because the participants are getting the stress off their backs, they're dropping because the participants see that someone else is stressed out too. There's an automatic surge of social support that comes just from knowing somebody else is having a similar reaction.

So next time your professor announces that you'll be having a final paper AND a final exam, don't call up your parents or your boyfriend/girlfriend to complain. They'll support you, saying, "I'm sure you'll do just fine."

But you'll feel a lot better talking to that person who sits next to you in lectures, who'll tell you, "This is impossible. We are both going to fail." It's just nice to know someone else feels the same.