The Bookbyte Blog
How Are Unpaid Internships Legal?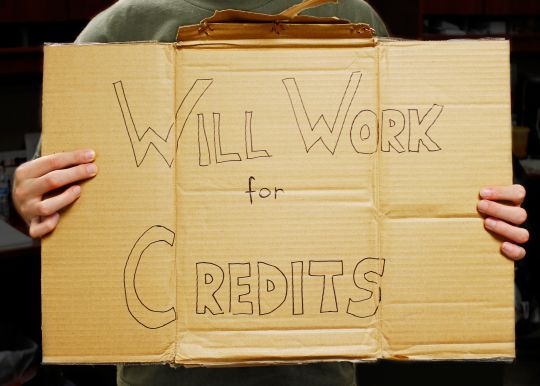 The further along students get in their education, and the closer they get to entering the workforce, the more the line between the two starts to blur. College athletes, for example, aren't getting paid for their athleticism, other than the lucky ones offered scholarships. But in many cases, their hard work is still making truckloads of money for their universities.
Internships are the tipping point between education and career. But if higher education is something that you pay to do and employment is something that you are paid to do, which of the two is an internship?

It's a point of contention, for sure. A group of former interns recently sued the Hearst Corporation in a class-action suit, claiming they were owed back-pay. The judge threw out the case, saying they didn't meet the definition of a "class," since the work is done varied too much between individuals. But if the case had been able to play out, it would have come down to an argument over the nature of the work. Were the interns primarily there to receive instruction and experience, or were they there as a free source of labor?

According to the Fair Labor Standards Act, there are a few criteria an unpaid internship must meet to be legally acceptable:


It must give educational training.
It must be for the benefit of the intern.
It can't displace regular employees.
It can't give your employer a competitive advantage.
It isn't a lengthy try-out for a full-time job.

Everybody involved has to know and agree to the fact that there's no paycheck.

As you can see, a few of these definitions are more than a little fuzzy. (Though keep in mind the phrasing used is mine.) Every job benefits the worker on some level, even if it's just another line you can put on a resume, so I'm not sure how even the most mind-numbing internship would fall short of that requirement. Also, every intern does work that ties back into the objectives of the company somehow, otherwise, no company would hire interns. So while "displacing employees" and "competitive advantage" might be a little strong, in one way or another all interns will be doing work that someone else could be doing. That being said, these vague rules are probably about as fair as they can be, considering the already vague definition of the word "internship."

So should companies pay for internships or not? It's a tough question. The classic anti-unpaid argument is that unpaid internships only offer opportunities for employees financially stable enough to work for free. Therefore, if an internship is the expected entry point to a career, that career is only available to people in good socioeconomic standing.

But, fair or unfair, how is that different from any form of higher education? At least an intern doesn't have to pay the company in anything other than time. Sure, college students can take out loans, but that just leaves them saddled with debt. Either way, isn't the ultimate objective of both the same: to gain the experience and credentials to help launch your career?

In the summer between my junior and senior year of college, I took an internship with a newspaper. It didn't pay and I couldn't use it for credit. Still, I'm happy I did it. It gave me a major leg-up when looking for entry-level positions after graduation. It got me my first job. But I also only did it for two and a half months. Long enough to get what I needed: experience and recommendations.

I have no doubt that there are a lot of businesses out there exploiting their interns as a source of cheap (or free) labor. But interns should keep in mind that they might be able to exploit those businesses too. Find the business that will give you experiences you can use as future leverage.

The key deciding factor should not be money, but should be variety. If the internship is just repeatedly doing a single, simple, and boring task, it's not probably not worth doing. If the internship means you get to be shoved into a dozen different bottom-level tasks, then there's educational value, as well as a dozen new things you can put on a resume and spin into something bigger during future interviews.