The Bookbyte Blog
Five Books We Want To See As Movies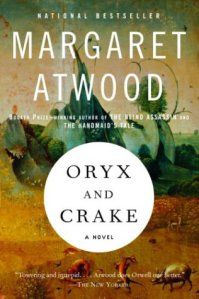 Oryx and Crake --
Margaret Atwood
The premise:
In a post-apocalyptic world, one of the only remaining survivors reflects on how his best friend brought about the end of civilization.
Why film it?
Look at
The Hunger Games
. Dystopian sci-fi is in. Look at
The Walking Dead.
Apocalyptic sci-fi is also in. With
Oryx & Crake
, you get it both ways: a frighteningly believable and self-destructive future society and a planet after a disaster rapidly being reclaimed by animal and plant life. Plus, while the book can stand on its own just fine, there is a sequel (
The Year of the Flood
) and a third book due out later this year. And movie studios love franchises.
Who'd make it?
It would be great if somebody like
Terry Gilliam
could make it. Despite the bleak material, the books are pretty funny at times and it would need a director who would be comfortable with some of the more unhinged parts. But there's no chance a studio looking to make a franchise would let someone that out of control near it, so my guess would be
Alfonso Cuaron
, who brought a lot of visual flair to another more down-to-earth sci-fi movie,
Children of Men
.
What are the odds it'll happen?
5/10 -- There's a chance nobody wants to touch this series until they see how it wraps up when the last book comes out this year. There's just as good of a chance that nobody wants to touch this series at all since the last film adaptation of a Margaret Atwood book,
The Handmaid's Tale
, was pretty poorly received.
The Yiddish Policeman's Union
-- Michael Chabon
The premise:
A noir detective tale set in an alternate history where, instead of Israel, a Jewish state was established on the island of Sitka, Alaska.
Why film it?
The plot more or less follows the expected template of a detective story like
The Big Sleep
or
Chinatown,
but the setting is wildly imaginative and begging to be put on screen by someone with a knack for atmosphere. The book's definitely out there, but it's out there is in a very approachable way.
Who'd make it?
For awhile there was a rumor that the
Coen brothers
wanted to make this movie, and really, I can't think of a more perfect match.
What are the odds it'll happen?
4/10 -- The film rights were purchased over a decade ago, before the book was even written. Yet nobody's touched it. If it ever gets made, it would have to be a passion project by the creators. And those creators would
have
to be someone like the Coens, who have enough pull as creators that they can get away with weird and ambitious projects.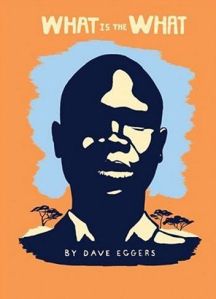 What Is The What -- Dave Eggers
The premise:
Story created from the memories of real-life Sudanese refugee Valentino Achak Deng, a survivor of genocide who fled on foot from Southern Sudan to Ethiopia, eventually making his way to the United States.
Why film it?
It's topical, it's based on a true story, and it's about atrocities most people are shamefully unaware of. The hero of the story is put through hell, yet remains incredibly likeable, relatable, optimisitic, and human throughout.
Who'd make it?
Director
Tom Tykwer
(
Run Lola Run,
half of
Cloud Atlas
) has already expressed interest in making this into a movie. He probably wouldn't have been the first name to jump to mind, but I liked
Cloud Atlas
a lot better than everyone else did, so I'm going to say that this is a good thing. Also, I guess the hero runs a lot, so there's your
Run Lola Run
connection.
What are the odds it'll happen?
9/10 -- For whatever reason, I find it easier to not dismiss this as a rumor because, unlike the Coens with
Yiddish Policemen's Union
, that doesn't sound like the first idea a fan trying to start a rumor would come up with. The fact that South Sudan has now become an independent nation would put a nice coda on a story that otherwise has a fairly open-ended conclusion.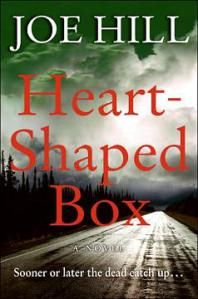 Heart-Shaped Box --
Joe Hill
The premise:
An aging rock star, fascinated with macabre collectibles, buys a ghost in an online auction.
Why film it?
It's an original idea for a horror film. If there's one genre of movies that's desperate for original ideas, it's horror. Plus, Joe Hill is Stephen King's son, and as filmmakers eventually inevitably adapt all of King's books, they'll need to expand to new sources.
Who'd make it?
Someone who understands horror and hard rock, which naturally makes me think
Rob Zombie,
but the book redeems its hero too much for a Rob Zombie movie. So instead I'll suggest
David Cronenberg
. If nothing else, he'd effectively render the festering infections each major character gets as the haunting gets worse.
What are the odds it'll happen?
7/10 -- Joe Hill's second book,
Horns
, will get a film treatment later this year, directed by
Alexandre Aja
and starring Daniel Radcliffe. There's a reason
Horns
was adapted first: It's a better book. No doubt
Heart-Shaped Box
's fate as a film is directly tied to how well
Horns
does.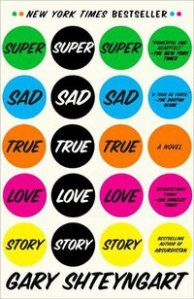 Super Sad True Love Story
-- Gary Shteyngart
The premise:
In a hyper materialistic future, a romance between a middle-aged Russian-American man and a young Korean-American woman is told through his journal entries and her text messages.
Why film it?
Because, unless you count
The Social Network
, there are no good movies focused on social media. For something that takes up such a large portion of our modern culture (and such a huge portion of our time every day), there aren't too many writers out there really trying to get a handle on it.
Who'd make it?
My dream pick would be
Edgar Wright
. He's funny, he's hyper-kinetic, he gets the current generation, and he's capable of finding a way to replicate the feeling of something without directly copying it.
What are the odds it'll happen?
2/10 -- Trying to adapt a book that's half told in text messages is a hard sell.