The Bookbyte Blog
Amazon Now Making Movies: Promises Original Stories, Instead Gives Us 'Zombies Vs. Gladiators'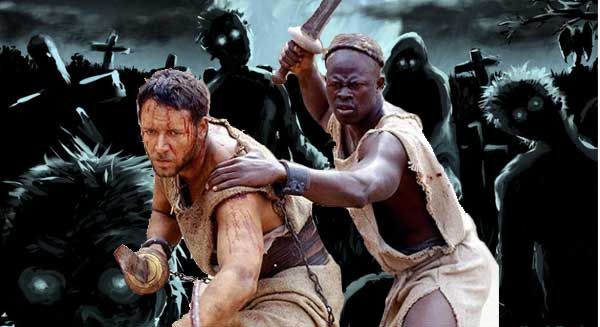 Amazon is launching a film studio. The idea is to make it in the same sort of egalitarian spirit as what they've done for self-publishing. Anyone can submit a script and if something really stands out, Amazon will greenlight it. The writer will make a flat salary of $200K if the film is made, but that number triples if the film is decently profitable. Like self-publishing, this promises a revolutionary world without the traditional gatekeepers, where anyone can get any story out to the world without going through the traditional channels, and where content creators can have greater ownership over their works. Of course, also like self-publishing, critics will argue that by making so much content available, there will be no way to truly separate the wheat from the chaff, and the only things that get noticed will be the ones driven by cynical marketing tactics rather than with true creativity.

Well, Amazon decided to prove its critics right by greenlighting a film called Zombies Vs. Gladiators. So I guess I'll be (indirectly) talking about zombies for the second blog post in a row.

The whole story is equal parts promising and embarrassing. To be honest, I actually like the idea behind Amazon Studios. I really do. Amazon has proven itself capable of gathering and utilizing creative talent, by developing systems where writers truly feel that they are being rewarded for their work. If it worked for books, why not make it work for film? The promise of Amazon Studios is fantastic. It's common knowledge that Hollywood is notoriously risk-averse, to such an extent that half-baked ideas will be bought and sometimes even filmed before a script is finished, just so a studio can fill a hole in their release calendar. The best thing about Amazon's idea is that puts all the weight on the script, at least in theory. That promises more creativity, more risks, and more originality, again, in theory.

That's why it's painfully embarrassing that the first widely reported title in pre-production is freaking Zombies Vs. Gladiators. Here's the premise (in case the three-word title didn't make it clear enough):
The story follows a gladiator who must stop a zombie infestation in ancient Rome. (Yahoo! News)
Got it? Good. I didn't want to lose you there.
It's ludicrous to me Amazon would lead off this new project with such a ridiculous idea. And, to be honest, I'm not even all that opposed to the story, thin as it may be. I can get behind the premise of Spartacus of the Dead (which, for the record, would be a better title). If nothing else, the idea of fighting off the living dead with only ancient weaponry should make for gory fun. My problem is that leading with this project sets such a terrible premise for the whole studio. The movie represents all the worst laziness of Hollywood (relying on proven concepts instead of new ideas, never taking risks) and all the worst laziness of self-publishing (a dumb-as-dirt title, mixing popular genres to boost discoverability) wrapped up into one package.
If nothing else, please, please, please change the title. The last thing the world needs is another movie titled _____ Vs. _____. Has there ever been a good one?