The Bookbyte Blog
The 10 Essential Soft Skills List: 8 – Interpersonal Skills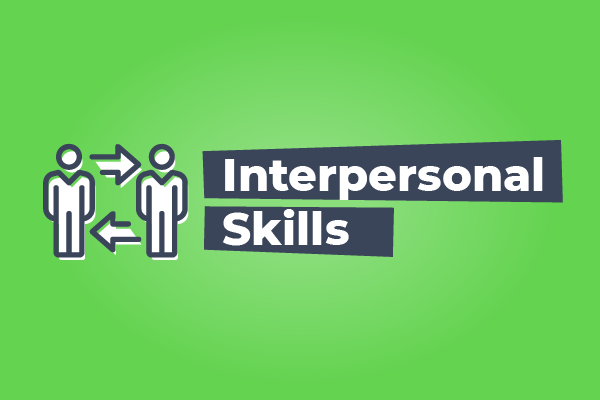 Whether you already know what interpersonal skills are or not, you use them every day. And just because you use them daily doesn't mean you're a pro. How we communicate and conduct ourselves—through in-person and (now) remote interactions—ultimately tells how developed our interpersonal skills are in fact. And while we do list it as a soft skill, it's actually considered to be a group of soft skills that all come into play when interacting with another person or persons.
What are interpersonal skills?
Interpersonal skills are often referred to as our 'people skills' or 'social skills'. And hate it or love it, people with good social skills naturally become popular in any social setting, and they typically advance faster in their careers. Doesn't always seem fair though does it? Each of us probably knows someone who isn't all they're cracked up to be as a person, but because they're outgoing and accel in conversational skills, they manage to inject themselves into the social circles that influence change and direction for the setting as a whole. (Again, hate it or love it.)
Interpersonal skills comprise of the following:
Easily the most important soft skill, communication involves a lot more than just the spoken word. Through verbal or nonverbal communication, the same words may be taken completely differently. The context we add through tone and inflection, or body language can enhance or detract from our desired message.
Learn the ins-and-outs of Effective Communication
This is the receiving end of communication and most professionals agree it's just as important. As with verbal communication, your body language is supplemental and either works for you or against you. But there's more that goes into being a great active listener. The goal with active listening is to not only show a person that you're listening—through verbal and nonverbal feedback—but to make sure you actually hear them.
Learn the ins-and-outs of Active Listening
This is the ability to understand and share the feelings of another. A 2019 State of the Workplace Empathy Study by BusinessSolver found that ninety-one percent of CEOs believe empathy is directly linked to a company's financial performance. Empathetic employees naturally build meaningful professional relationships with greater trust and rapport that raise employee engagement and increases their communication effectiveness.
Learn the ins-and-outs of Empathy
Being a team player is paramount to your long-term success within a company. In almost every job, you'll work with others in some capacity so it's important that you know how to cooperate, collaborate, and contribute effectively.
Learn the ins-and-outs of Teamwork
Why interpersonal skills are important
Besides the very reasons previously mentioned, interpersonal skills drive projects and progress directly and indirectly, and employers know this. Being able to cooperate and work with your colleagues can help solve difficult problems that we may otherwise be unable to do on our own. And by communicating effectively and using your empathy to really understand your teammates, you help streamline the work on any shared project.
How you can improve your interpersonal skills
The first thing you need to do is assess your own interpersonal skills and identify areas for improvement. Fortunately, SkillsYouNeed has an interpersonal skills quiz that both assess your current skills and provides recommendations on how to improve weaker areas.
Take the quiz and see how you stack up!
The key here, to improve your interpersonal skills, is to find a way to genuinely become a strong people person with integrity (not for your own advance or agenda). Not for political reasons. Not to be agreeable either; don't always compromise and go with the accepted way or popular opinion. True leaders influence influence. (Not a typo, read that again.)
How to highlight your interpersonal skills on a resume
Demonstrating your interpersonal skills on your resume sounds like a bit of a challenge and it is. (Especially if you've yet to land your first real job.) But you want to word your skills and experience sections in a way that incorporates your interpersonal skills. In your skills section, consider going with something like 'highly motivated team player' or 'strong active listener', or 'exceptional communicator and collaborator'. In your professional experience section, describe how you've tactically used each of these traits to help you reach a certain goal or build (genuine) professional relationships that help move the needle for the company.
ResumeGenius points out one excellent, easy—and indirect—way to convey your team-minded attitude, which is to avoid saying "I" and choose to alternatively go with "We". For example, instead of "I accomplished...", go with "We accomplished..." ResumeGenius has a lot of good resources for incorporating the right kind of language on your resume. Consider bookmarking their site for reference when it comes time to start the job hunt.
Conclusion
Now we have a good idea about what interpersonal skills are, what they're comprised of, and why they're so important. With that, it's just as crucial to note that while two people may have the same level of communication, listening, and teamwork skills, their level of empathy will be what separates the two.
Courses you can take
Estimated time to complete: 1.5 hours
Estimated time to complete: 11 hours
Estimated time to complete: 45 minutes
Estimated time to complete: 32 minutes
Estimated time to complete: 45 minutes